Has the Texas Real Estate Market Slowed?
Posted on November 30, 2017
by Mark Sprague
I am frequently asked if the Texas real estate market has slowed. In this piece I'll explain the state of the market and try to answer this question. First, some context.
Austin real estate has been traveling at light speed with over 60% appreciation on residential real estate in the last ten years. DFW has seen over 50% appreciation in the same period. While these aren't as robust as the 'go go' years of the sand states (California, Arizona, Nevada and Florida who at times pre-recession were appreciating 40%+ annually), they have led the nation in the last ten years. Since 1990, Austin has had an average residential real estate appreciation of 5.4%, Houston 4.9%, San Antonio 4.7%, and DFW 4%.
Recently, we have seen sales slow, as you can see in the charts below. Not much, but a little.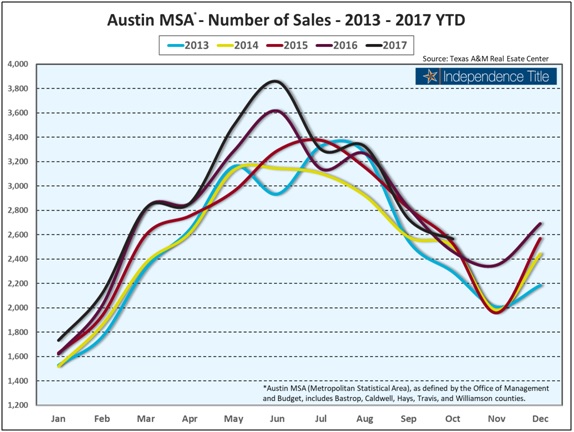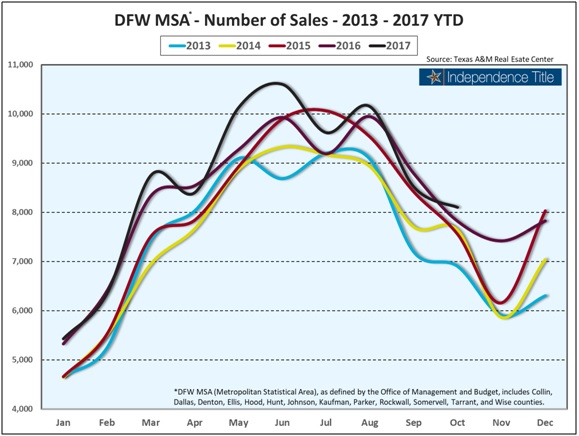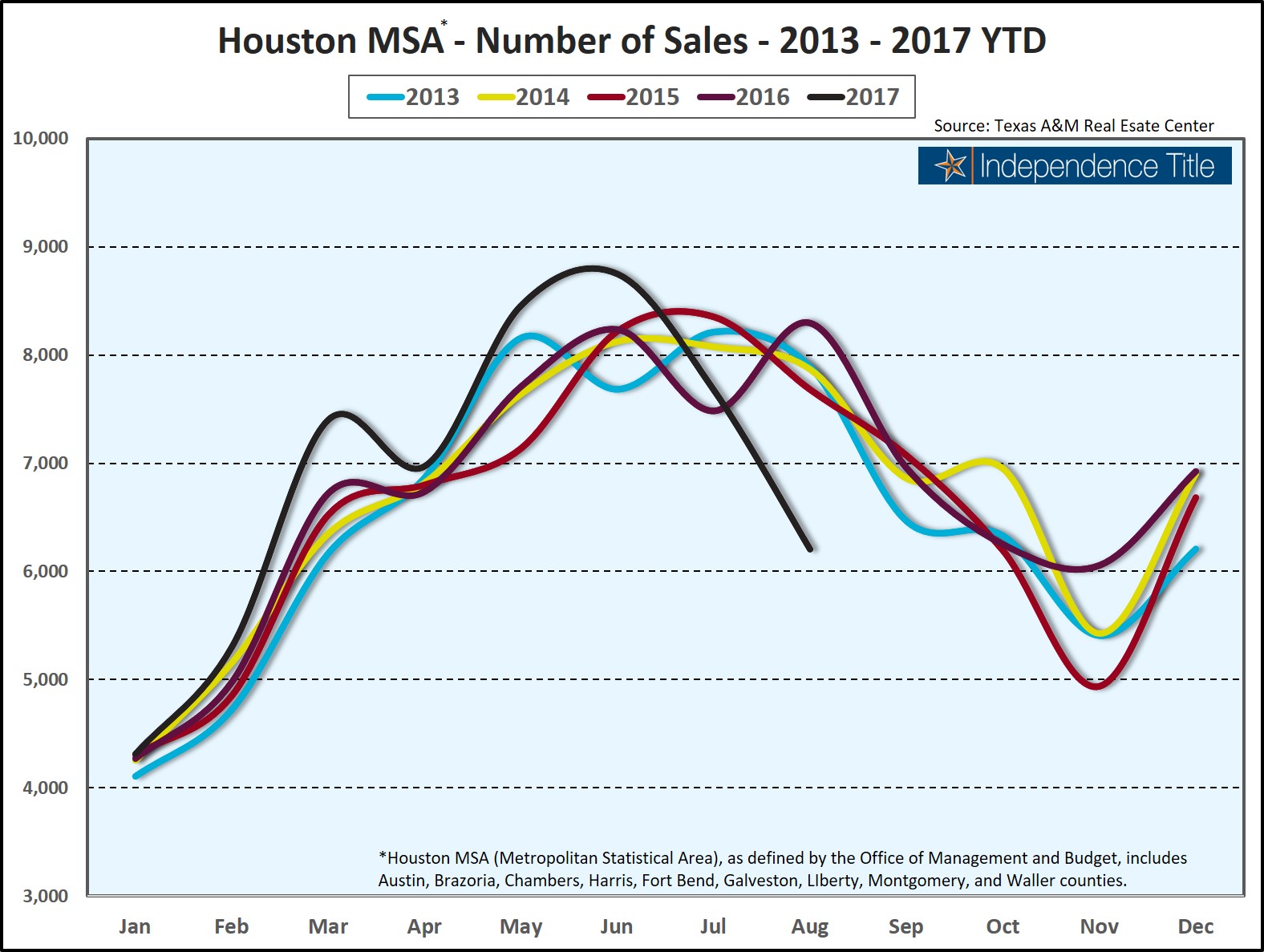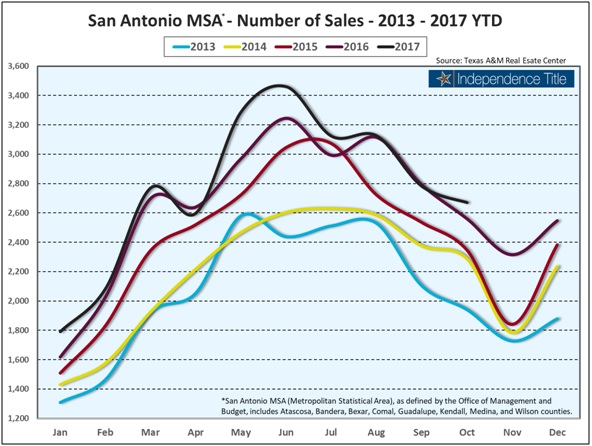 Point of distinction: Residential appreciation has slowed, but not declined.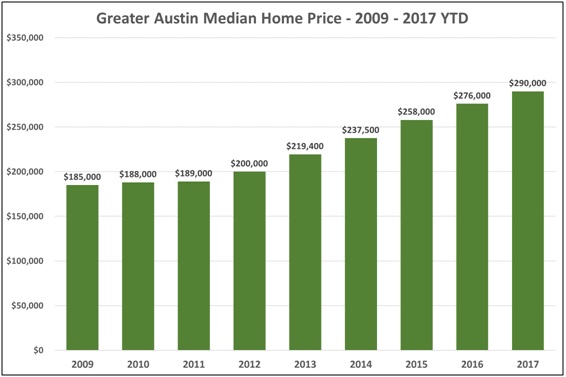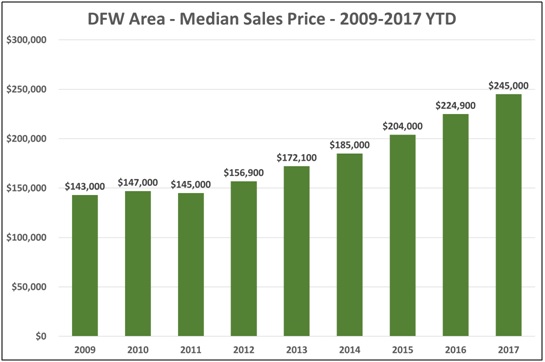 Commercial real estate sales nationally are off about 20% from last year. Here in Texas, it is slower but not by nearly that much. Commercial values continue to be strong in all Texas metros, except Houston due to the oil downturn (pre-Harvey). Pre-Harvey there were concessions on multifamily rentals. Those all but disappeared after Harvey. The other Texas metros continue to see good appreciation and occupancy. Most commercial channels have occupancy above 90%. These are all signs of healthy markets.
So the important takeaway is that Texas metros real estate values continue to appreciate. In some price points, inventory is up, particularly luxury above $2 million. Buyers are looking at properties as a commoditable product so they are not willing to overpay. The buyer will see multiple homes, and the one that best fits their needs and budget will be their new home. Sellers are having to travel farther to meet buyers expectations. Luxury is in a 'buyer's market'.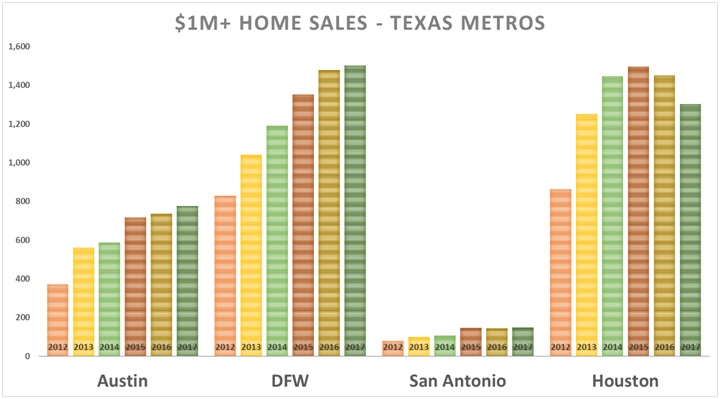 Have values increased in this price point as aggressively as the rest of the market? No, luxury values have historically been less than the general market due to the smaller pool of buyers.
If you are shopping for a house with a budget above $2 million? I have good news: You have more than a six-month supply of homes to choose from, as opposed to a couple months' supply of homes in many of the lower prices.
Below $700,000, if priced correctly, we are still seeing multiple bids in Austin and Dallas. Sales volume has been dropping, but days-on-market has gone down. Overall, the market is clearly slowing down for the season, though it's not painfully dull like it was in 2013 or 2014 during the fall. This is key to understand because when we say values are "softening," some interpret that to mean the market is really slow or crashing. But we're really only saying sales are slowing.
These charts show you which price segments are strongest in our metro areas.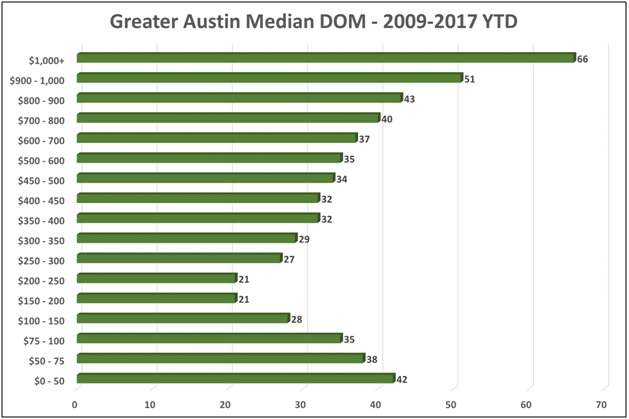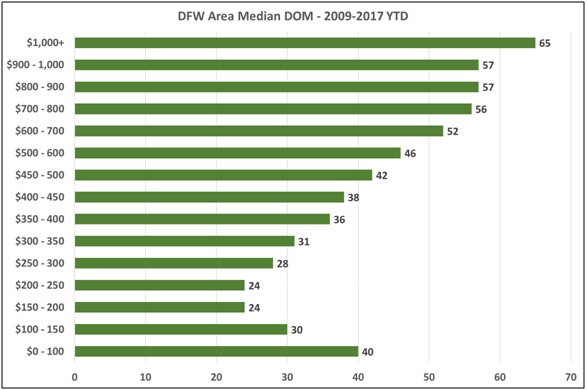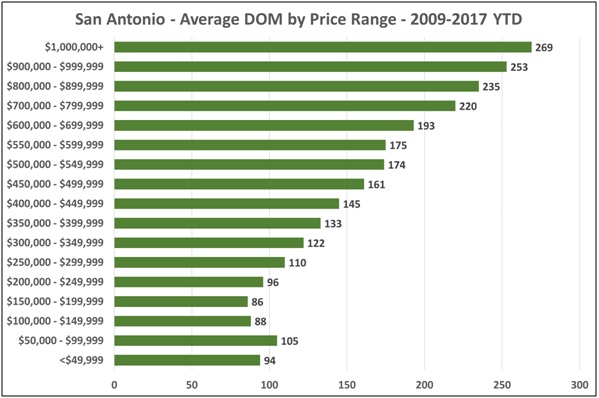 Many price stats last month actually showed an increase in value. What does that mean? Does this mean the market improved? I thought you just told me the market is slowing? In reality, sales from October really tell us more about properties that went under contract in August and September before they actually closed escrow in October. Thus that 1% uptick really happened in the market a couple of months ago rather than in October. In other words, we'll see the real trend of the market for October when the pendings from October close in November and December.
Let's not make a big deal about the market technically showing an increase, because the uptick didn't actually happen last month. If we want to see the current market, we must look at the sales, but we cannot forget to give strong weight to the listings and pendings. Are properties taking longer to sell? Are there more listings hitting the market? Are properties starting to generate less offers or offers at lower prices? What are buyers, sellers, and the real estate community saying about the market? All these are factors to consider.
To borrow an analogy from the holidays, I'd say the real estate market is like searching the freezer and refrigerator for leftovers from the holidays. You cannot expect the food to taste the same or cook at the same rate. It depends on each market. Some portions are blazing hot
while others remain only warm — or even frozen. Like leftovers, we can say the real estate market is hot overall, but it's definitely not the same temperature in every area or price range.
Lower price points have had the largest appreciation
Some of the largest price increases in the Texas metros these last few years occurred at the lowest price ranges. While values increased by 5+ percent or so for many price points, in some starter areas, values easily increased by five times that amount. So the market is ultra hot at some of the lowest prices in town, but we don't see the same rate of appreciation at every price point throughout the region. On top of that, this year, properties above $1 million typically took three times longer to sell compared to properties under $300,000.
Some neighborhoods have begun to see a flattening of sales compared to previous years. The reason is that prices have increased to a point where the area is still desirable, but $100,000+ more than it was three or four years ago. That appreciation is great for those already vested in the neighborhood, but prevents many from moving into their desired location.
We have a housing shortage in the lower price points. The cost of land, labor, and materials continues to escalate, with the hurricane, wildfire, and a lumber tariff not helping. Slower job creation in Austin, San Antonio, and Houston for 2017 have also not helped.
See what I mean now about those unevenly heated leftovers?
If someone asked me whether the Texas metro markets were "hot," I'd say they are strong. But, realistically, I'd probably first answer with a question, "Which market are you talking about?"
Austin, DFW, and San Antonio continue to be some of the most desirable markets in the nation. Should you wait for values to drop? Never say never, but I don't see values softening anytime soon, barring a catastrophic economic event. With rates and values rising, the time to buy is now.
Citation:
Sprague, Mark. "Has the Texas Real Estate Market Slowed?" Independencetitle.com, Independence Title, 30 Nov. 2017, independencetitle.com/has-the-texas-real-estate-market-slowed/.